You are here
Company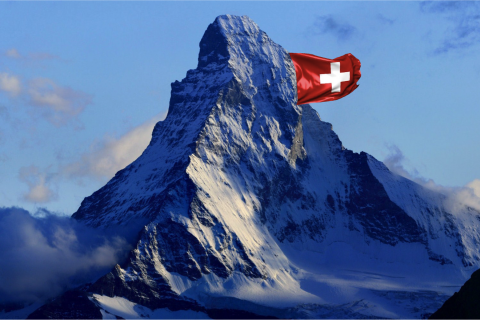 Whitestein Technologies
Whitestein is a global Swiss company offering advanced intelligent application software for multiple business sectors.

Our primary specialism is intelligent BPM technology and solutions.
About Whitestein
Whitestein creates intelligent software to optimize business operations. We innovate technology ahead of the curve, bringing fresh concepts such as 'goal oriented' software to our customers that has a deeply significant and sustainable impact on their business.

Our Offering
Whitestein's software products enable companies in many sectors to embrace responsive, continuous and proactive change in their business strategy, operations, and organization.
Our flagship product is the Living Systems Process Suite - LSPS; a model driven Rapid Application Development platform integrating the capabilities of intelligent Business Process Management with a adaptive/dynamic Case Management. LSPS enables the low-code, model-driven creation of applications, with solution frameworks ready for multiple business sectors.
Our Motivation
For the 20+ years of our existence we have consistently sought to transform the operations of our customers with technology that simply performs, leaving the business to do what it does best. For this reason, Whitestein's mantra is to create software that transcends the ordinary to deliver positive impact that is both significant and sustainable.
Our Customers
Whitestein is privileged to work with a broad variety of customers and partners ranging from Global 100 enterprises to start-ups, and academic organizations. We take time to understand the problems experienced by our customers in many areas of business relating to complexity, decentralization, expectation, individualization, and the speed of change. We also understand how to solve these problems using innovative software that works.
Our customers are oriented toward many business sectors, yet they share a common asset: a technology solution from Whitestein that transformed their business for the better.
Contact Us
Corporate Headquarters (Switzerland)
Whitestein Technologies AG
Hinterbergstrasse 20
6312 Steinhausen, Switzerland
Phone +41 44-256-5000

Send us a message
General information email
Solutions & services email
Careers email

Germany
Whitestein Technologies
Steiermärker Straße 3-5
70469 Stuttgart, Germany
Phone +49 711 89660 184

Slovak Republic
Whitestein Technologies
Karadžičova 12
821 08 Bratislava, Slovak Republic
Phone +421 2-5443-5502

Hong Kong
Whitestein Technologies
22/F - 100QRC, 100 Queen's Road Central
Hong Kong
Phone +852 39-700-700

Luxembourg
Whitestein Technologies
134, rue Principale
5366 Munsbach, Luxembourg
Phone +352 26-1522-1

United States & Canada
Whitestein North America
78 Alexander Street, Suite A
Charleston, SC 29403, United States
Phone +1 843-822-3187

United Kingdom
Whitestein Technologies
37th Floor, One Canada Square, Canary Wharf
London E14 5AA, United Kingdom
Phone +44 20-7712-1735, Fax +44 20-7712-1501

Middle East
Whitestein Technologies
Sentinel Business Centre, The H Dubai Office Tower, Level 19
One Sheikh Zayed Road, P.O. Box 333840, Dubai, UAE
Phone +971 4-705-0380, Fax +971 4-705-0301

Singapore
Whitestein Technologies
8 Eu Tong Sen Street, #11-83 The Central Office 2
Singapore 059818, Singapore
Phone +65 6805 8160

Latin America
Whitestein Technologies
Rua Antônio Aggio 400 / ap. 41
05713-420 São Paulo, Brazil
Phone +55 11-2614-0347
Events

Whitestein will be attending JHUGS Annual Conference
Whitestein Technologies is proud to be a Platinum Sponsor to the annual Jack Henry User Group Southern (JHUGS) conference at The Henderson Beach Resort in Destin, Florida from May 2-4th, 2018. 
Whitetein is looking forward to engaging with JHUGS and demonstrating LM1, our affordable and game-changing loan management workflow solution. Designed specifically with input from Whitestein's customers, and certified by Jack Henry, LM1 meets regional and community banks' needs by shortening the app-to-close cycle, reducing redundant entry, improving communication between all parties, and delivering a better customer experience. 
We look forward to seeing you there.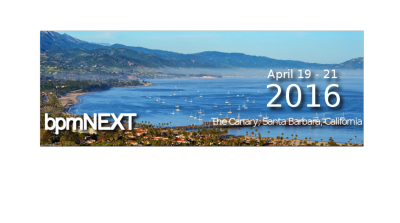 BPMNext 2016 - Defining the next generation of process innovation
The Canary, Santa Barbara, California
April 19-21, 2016
Whitestein's COO, Dominic Greenwood, is looking forward to presenting at this highly regarded and unique insider showcase of next generation of BPM and related technologies. With a participant list of some of the biggest names in Business Process Management, BPMNext continues to be a great venue to discuss and demonstrate the products for tomorrow.
Dominic will be demonstrating the interplay of GO-BPMN (Goal Oriented BPMN) with agent capability. This innovative solution enables the dynamic re-routing of processes, which direct the movement of drones used in package delivery, as part of a human-facing ("knowledge worker") process, with real-time analytics and a geospatial interface.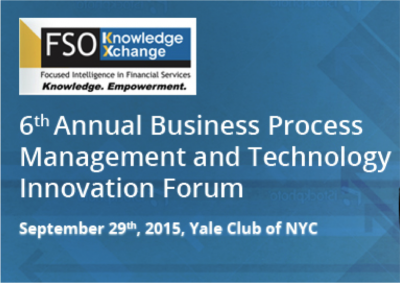 FSOkx's 6th Annual Business Process Management and Technology Innovation Forum,
September 29, 2015
Yale Club
New York City, NY
Whitestein's Dominic Greenwood (COO) is looking forward to participating as a speaker at FSOkx's 6th Annual Business Process Management and Technology Innovation Forum, where renowned practitioners from leading banks, capital markets and insurance firms share best industry practices, strategies and insights on the most innovative approaches to successful BPM initiatives that can deliver effective business results.
Specifically, Dominic and other panel members will address the theme: 'Solving the GRC Challenge with Right Processes & Technologies'. Within the financial services industry, Governance, Risk Management, and Compliance are of critical importance. The discussion will encompass questions surrounding the idea of leveraging innovative technologies to create robust business processes across the globe, in a manner that is compliant, efficient, and responsive to change.
Sponsoring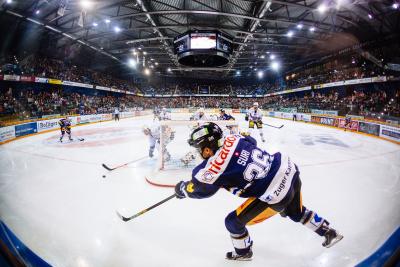 EVZ Zug
Ice hockey is an important cultural sport of Switzerland, with Whitestein's local club EVZ considered to be among the elite in the game. As a sponsor of EVZ, you will frequently find Whitestein colleagues and associates supporting the team at the nearby BOSSARD Arena.
Whitestein Technologies is proud to be an equal opportunity employer. All qualified applicants will receive consideration for employment without regard to race, color, religion, sex, disability, national origin or any other category protected by applicable law. Communications regarding employment opportunities will always come directly from Whitestein Technologies and not through third parties.
Due to the increase in fraudulent offers of employment (see FTC Consumer Information), Whitestein recommends contacting jobs@whitestein.com directly to verify the validity of any unusual or suspicious offer of employment.