You are here
Discovery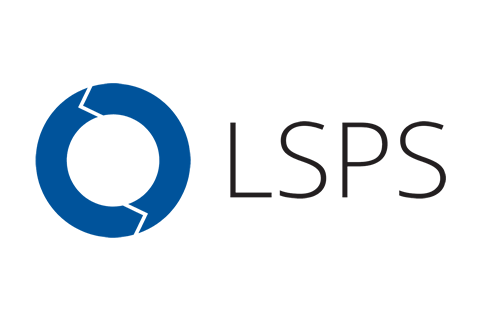 Capture existing practices and boost analysis right off the bat
Kickstart the LSPS application lifecycle with the Discovery Accelerator, powered by Trisotech technology. Define goals, actors, organization, and activities directly during business analysis or from existing documents. Blaze through early phases, from brainstorm to working GO-BPMN prototype.
Discovery Accelerator
Discovery is the first step in implementing a BPM solution. To facilitate this important stage, the Discovery Accelerator is designed to allow business users to start from any stage, be it a blank slate, a brainstorming session or from existing documentation and procedures.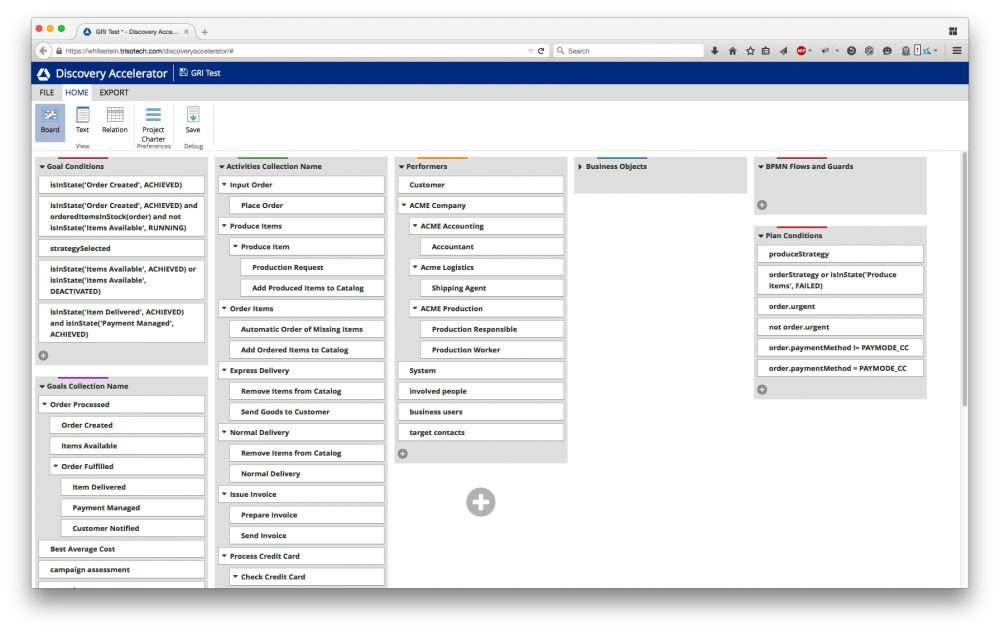 The goal of intelligent BPM is to make processes more efficient, more accurate, and more transparent. It is only natural that the tools used to implement an iBPMS display those same qualities. The Web-based Discovery Accelerator is ubiquitous - any business user or group can use it without specialised training; it is available at any time through an intuitive Web-based dashboard; and it enables the utilization of documents in countless formats.
Discovery Accelerator features include:
Simple sticky note style board interface
Using an easy drag and drop method, users can organise their screen to fit their style.
HW5 Analysis
Using the analysis technique of How, Who, What, Where, When, and Why (HW5), users can specify interrelationships, responsibility, and motivation between each identified discovery item.
Export to industry standards
All information gathered in the discovery stage is easily reused. It can be exported as GO-BPMN or pure BPMN 2.0 to the LSPS Business Process Modeller.
Generate Documentation
Word Document and HTML exports allows the team to share the discovery effort in a convenient format.
Intuitive document highlighting interface
Once documentation is imported, use the unique highlight feature that easily enables users to identify activities, actors, artifacts, events, systems and goals making business discovery fast and easy.
Improvement Analytics
Any identified items can be augmented with Value, Quality, Time and Cost metrics. Quick wins can be identified, and other items may be flagged for review. The quick identification of improvement opportunities is possible through the summary visualization.
Team collaboration
Discovery projects are saved in an easily, 24/7 accessible online repository that can be specified for a team, private, or public location. Here, team members can leave comments on any element of a project. Comments, questions, answers are all viewable on a scrolling comments section.
Related Content
Mine Existing Documentation
Many companies already have many of their processes defined in a variety of places, including standard operating procedures, internal policies, and handbooks, to name a few. The Discovery Accelerator streamlines the extraction and collection of the relevant information from this documentation.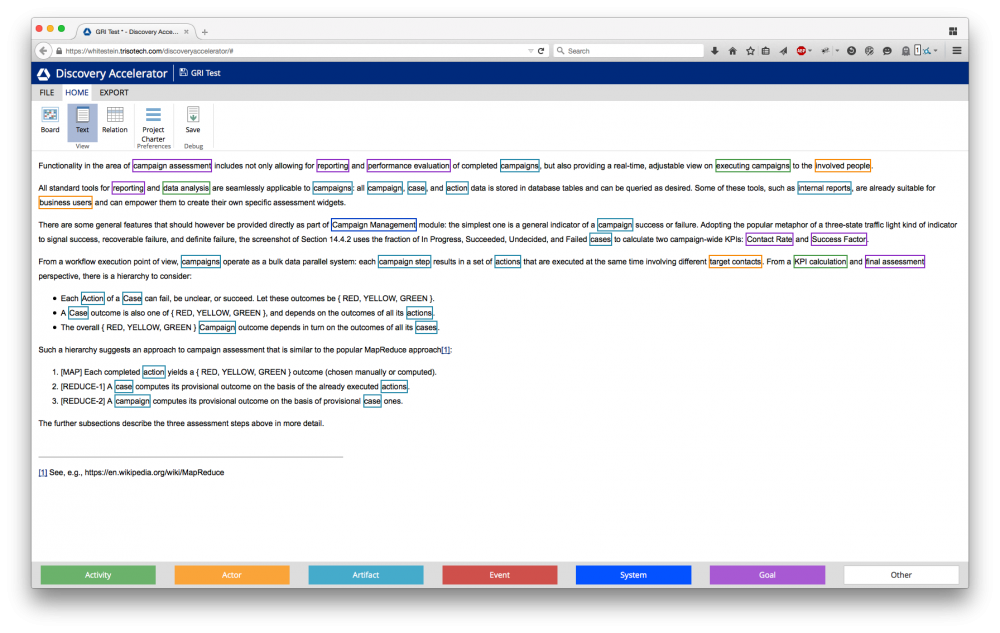 Highlight and Identify
Once existing process documents are scanned into the Discovery Accelerator, the items may then be highlighted: activities, actors, artifacts, events, systems, goals. Additional categories may also be added, as suits each business' needs. At every stage stakeholders are able to view and discuss. By facilitating group comment and buy in, the process helps ensure that the end product clearly defines the existing processes.
Structured Views
Two more views complement the Text View and allow adding more structure to the captured concepts, arranging them in logical hierarchies and allowing connections of various kinds among them .
The Board View provides an intuitive and versatile view of the goals, actors, activities, events, systems and any other component used. The drag and drop dashboard allows users to easily tailor the Board View to their preferences: elements such as goals, actors, and activities can be distributed across multiple layered collections. Each element can also receive specific attributes, such as related KPIs or individual semantics.
The Relation View can show and modify links that connect different kinds of elements. The meaning of the link depends on the type of elements it connects: the actor/activity relation is for example a RACI matrix; the activity/goal one tells on the other hand how goals are achieved or maintained.
Related Content
Improvement Analytics
Metrics, like goals, are important throughout the life cycle of a model-driven application, and can be effectively defined and applied already in the process discovery phase, ensuring that resources are properly allocated and driving long term business improvements.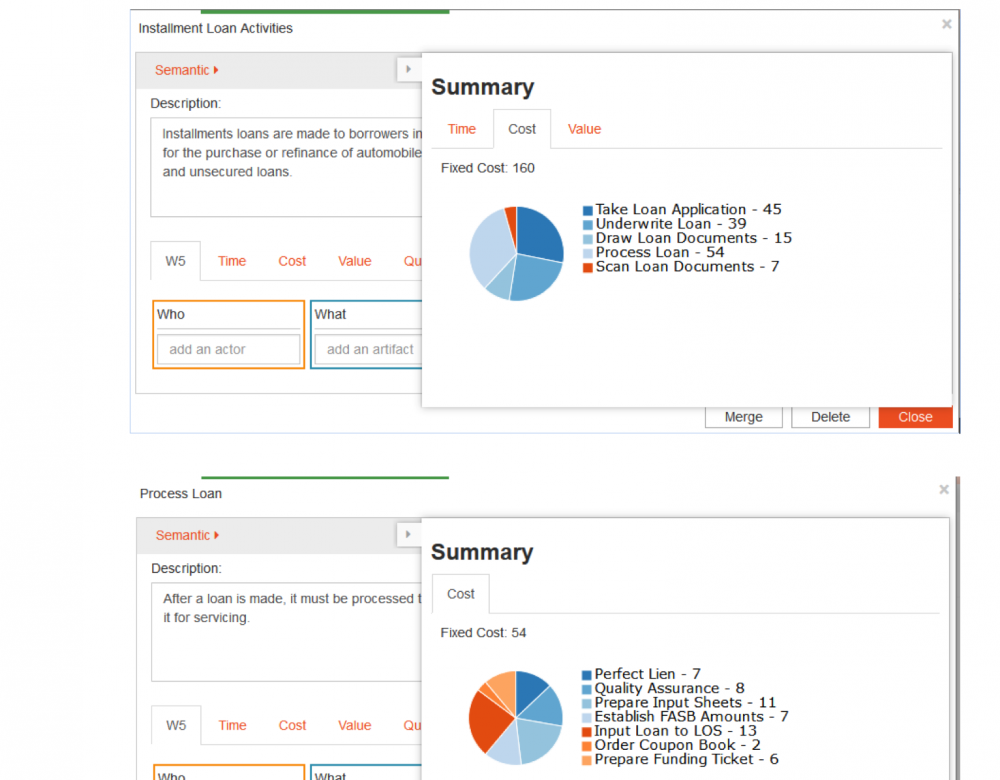 The Discovery tool allows metrics to be captured at the detailed activity level during the discovery process. Available metrics include time, cost, and value. The Discovery Accelerator will, in turn, aggregate these different metrics at every level of the defined activity and goal hierarchies.
Quick wins can be easily identified, and chosen items can be flagged for review. Furthermore, a summary view supports efficient identification of process improvement opportunities, as well as the definition of KPI target or threshold values. Overall results for defined metrics are displayed according to hierarchical activity breakdown.
Related Content